We love chocolate, and we love apps. We create and develop the best entertainment apps for your smartphone and tablet. Share and enjoy the best festive apps for free from AppChocolate.
Follow us on Twitter @appChocolate
Like us on Facebook https://www.facebook.com/pages/AppChocolate/656514517794616
---
❄❄❄
Here are some of our most popular apps to celebrate Christmas:
Explore an enchanting Winter Wonderland as you open the windows scattered through our calendar from December 1st to discover 25 amazing free gifts and magically bring the Christmas scene to life.

Advent 2021 – 25 free games until Christmas for iPhone & iPad


Advent 2021 – 25 free games until Christmas for Android 

Merry Christmas 🎅
Your AppChocolate Team
                                                     ❄❄❄
Sleep to Christmas – New Update
This Christmas countdown will keep you company wherever you are, telling you how many days, hours and minutes there are until the BIG day!
The countdown includes 3 classic Christmas carols to choose from: Jingle Bells, Rudolph the Red-Nosed Reindeer and We Wish You a Merry Christmas.
You can also choose from 3 iconic Christmas characters: Santa Claus, The Snowman and Rudolph the Reindeer. They will keep you updated on how many days there are until Christmas Day. Don't forget to touch them, they move!
Shake your mobile phone when the app is open to hear the sound of sleigh bells.
INCLUDES magic countdowns to your other favorite events, including Thanksgiving, New Year's Eve, Kings Day and Chinese New Year.
* Share with your family and friends!
You can download it for free here on iPhone, iPad, Android:

❄❄❄
Christmas Booth: Photo Fun
Bring some festive photo fun to your holidays with the help of Christmas Booth!
Snap a picture, or grab a photo straight from your camera roll, and add seasonal stickers to turn your face, or your friend's, into a famous festive character.
You can even save your Christmas creations and share them easily with the world via email, Twitter or Facebook.
Christmas Booth features:
– A design so easy to use that even the littlest elves can get the hang of it.
– Tonnes of stickers that are guaranteed to get you in the mood for Christmas.
– Seamless social media integration to help you share the spirit of this festive season.
With hours of fun to be had, Christmas Booth is the best way to get yourself ready for the big day!
❄❄❄
Quote of the day: Daily inspiration & motivation
Start your day with Quote of the Day, it:
– Gets you inspired, feel positive and empowered
– Provides you proverbs to reflect on your purpose
– Brings you back to the mindfulness moments, filled with compassion and love
– Encourages you to embrace life and feel grateful and happy
We bring you one specially selected inspirational quote every single day! Take the life lessons and philosophy from great people in history to shape your vision and fuel your spirit.


❄❄❄
Follow the 2020 UEFA European Football Championship! 
Follow your favourite team at the Euro 2020 competition with:

Euro Football 2020
Get the most from Euro 2020, the must-have app for all football fans who want to enjoy the tournament of summer 2021! Have fun supporting your country this year.
We give you immediate access to the latest results and breaking news, plus a live scoreboard. Euro 2020 keeps you up to date with all the goings-on from the tournament in Europe!
Features included:
– Live scores on the home page
– The latest news stories from Euro 2020 in your language
– The national anthems of the 24 teams
– Stats for every country; including squad lists, fixture lists and their win/loss record
– Complete fixture list, including the draw for the later rounds
– 100% accurate results and group tables, updated instantaneously
– Fantastic high-res graphics and smooth user interface
– Available in 12 languages
Enjoy the football!
The AppChocolate Team
You can download it for free here on iPhone, iPad, Android: https://bit.ly/euro2020app


❄❄❄
Love football? Discover the best way to be up-to-date every day with all the news, results and live scores about European teams for free!
Football News & Live Scores Tracker – Best of 2021
1. All the news up-to-date about the Champions League, Europa League, Premier League, the Seria A, La Liga, the Bundesliga, Ligue 1, the Nation League, EURO 2020, the Word cup qualification for Qatar and more;
2. Access all the live results with LiveScores.com;
3. And best of all is that you get all the news in different languages, from the best official websites.
You can download it for free here on iPhone, iPad, Android:


 ❄❄❄
---
Other Apps we developed in the past:
Follow your favourite team at the Rugby World Cup 2019 in Japan with:

World Cup App Japan 2019
The 2019 Rugby World Cup will be the ninth Rugby World Cup, to be held in Japan from September 20th to November 2nd.
Rugby World Cup App Japan 2019 is the ultimate application for the Rugby World event in Japan!
This year make sure you don't miss a single moment as you support your team through the 2019 World Cup. Keep in the loop with this great application. Made by fans for fans, find everything you need in one easy to use app.
– Results and Rankings
– Calendar of all the matches in your local time
– Instant access to all the latest news in 5 languages
– Stats for the 20 countries: teams, fixtures, flags and national anthems
Enjoy the Rugby!
The AppChocolate Team
You can download it for free here on iPhone, iPad, Android: https://bit.ly/rugbyapp2019


❄❄❄
Follow your favourite team at the World Cup with appChocolate's latest app!



Get everything you need to know about the Russia 2018 World Cup in one place!
Download it for free in your favourite App Store https://bit.ly/worldcupapp2018
---
❄❄❄
Eltoria launched a new video on her Youtube channel about our app Advent 2017.
Watch the video here.
Many thanks Eltoria for this wonderful video!
Don't forget to download our app 😉 Follow the links : Itunes, Android, Amazon.
We wish you a Merry Christmas 🎅
Two new Apps for an even merrier Christmas!
Christmas Poppers and Talking Santa
Enjoy the festive season even more with your best friend for Christmas – Talking Santa and pop, tap and crush your way right through to Christmas Eve with Christmas Poppers. FREE to download for a limited period of time! Download now on iTunes: Talking Santa and Christmas Poppers
 Enjoy and Share,
Your AppChocolate Team xo
First iPhone and iPad App out: Christmas Snow! Chocolate the Snowman is stuck in a blizzard! Keep popping snowflakes to keep him from getting buried. Download it on iTunes Store: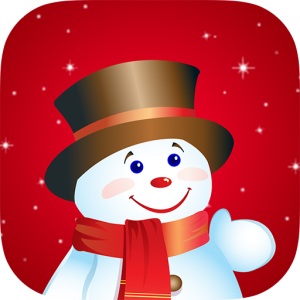 Christmas Snow – iTunes Store
Enjoy and share, A very Merry Christmas from your AppChocolate Team   Got some feedback about our apps? Then send us a snowflake (or an email) to info@appchocolate.com! * * * * * Follow us on Twitter: @AppChocolate Google+ and  Facebook Page and Instagram