Follow your favourite team at the World Cup with:



Get everything you need to know about the Russia 2018 World Cup in one place!
Download it for free in your favourite App Store https://bit.ly/worldcupapp2018
Advent 2017 is now available for Iphone and Ipad, Google Play and Amazon Store !
Discover this amazing app for Christmas! Open a door every day to countdown to Christmas with Advent 2017.
Discover and play with daily mini games; from snowball fights with elves to decorating Christmas trees, play a new festive mini game every day. Earn achievements and challenge your friends with Christmas these mini games to get the top score. And discover a beautiful landscape, an enchanting village with gorgeous graphics, heart warming animations and tinkling jingle bells.
Family friendly and suitable for all ages, download Advent 2017 now and bring the exciting countdown to Christmas to life on your touchscreen device!
Advent 2017 is NOW available for App Store, Google Play and Amazon Store:

Sleep to Christmas will keep you company wherever you are, telling you how many days, hours and minutes there are until the BIG day!
The countdown includes 3 classic Christmas carols to choose from: Jingle Bells, Rudolph the Red-Nosed Reindeer and We Wish You a Merry Christmas.
You can also choose from 3 iconic Christmas characters: Santa Claus, The Snowman and Rudolph the Reindeer. They will keep you updated on how many days there are until Christmas Day. Don't forget to touch them, they move!
Get the app and share with your family and friends
Advent 2016 is now available for iPhone, iPad and Android!
Discover a free Christmas app every day with Advent 2016  a modern take on everyone's favourite festive calendar!
Download "Advent 2016 – 25 Christmas apps" on  iTunes Store or on Google Play for FREE
Download  "Advent 2016 – 25 Christmas apps" now  for FREE
Share and enjoy Christmas with us,
Your AppChocolate Team
***
Advent 2015, 25 Christmas Apps is now available for FREE Discover a free Christmas app every day with Advent 2015 – a modern take on everyone's favourite festive calendar! Explore an enchanting Winter Wonderland as you open the windows scattered through our calendar from December 1st to discover 25 amazing free gifts and magically bring the Christmas scene to life. Download now on iTunes Store or Google Play
***
Rugby World Calendar 2015 It is the ultimate application for the Rugby World Cup 2015! Rugby World Calendar 2015 is FREE for iPhone and iPad and available in English, French, Italian, Japanese and Spanish. This year make sure you don't miss a single moment as you support your team through the 2015 world tournament! Keep in the loop with this great application. Made by fans for fans, find everything you need in one easy to use App. And don't forget there will be 15 surprises up for grabs too! – Results and Rankings – Calendar of all the matches in your local time! – Instant access to all the latest news in 3 languages! – Stats for the 20 countries: teams, fixtures, flags and national anthems! Enjoy the Rugby! The AppChocolate Team You can all download it for free here! http://bit.ly/RugbyWorldCupApp2015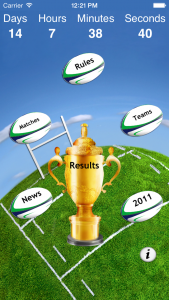 ***
Christmas Poppers – Chocolate Puzzle Get ready for a Winter-ful Christmas BLAST with our brand new, fun-filled and incredibly exciting chain reaction game 'Christmas Poppers Puzzle'! Pop, tap and crush your way through almost 800 highly addictive Christmas puzzles and the much-dreaded wait until Christmas Eve will be over in a flash this year. Download now for FREE for a limited period of time: iTunes Store
Enjoy and Share, Your AppChocolate Team
***
  Talking Santa – Your best friend for Christmas Christmas is a season to share with as many people as possible. Always have a friend by your side with 'Talking Santa' – the perfect companion to share with the whole family! Download for FREE for a limited period of time: iTunes Store
Enjoy and Share, Your AppChocolate Team
***
  Advent 2014, 25 Christmas Apps is now available for FREE Discover a free Christmas app every day with Advent 2014 – a modern take on everyone's favourite festive calendar! Explore an enchanting Winter Wonderland as you open the windows scattered through our calendar from December 1st to discover 25 amazing free gifts and magically bring the Christmas scene to life. Download now on iTunes Store or Google Play
Enjoy and share, Your AppChocolate Team
***
First iPhone and iPad App out: Christmas Snow! Chocolate the Snowman is stuck in a blizzard! Keep popping snowflakes to keep him from getting buried. Download it on iTunes Store:
Enjoy, Your AppChocolate Team   Got some feedback about our apps? Then send us a snowflake (or an email) to info(@)appchocolate.com! * * * * * Follow us on Twitter: @AppChocolate and check out our Facebook Page